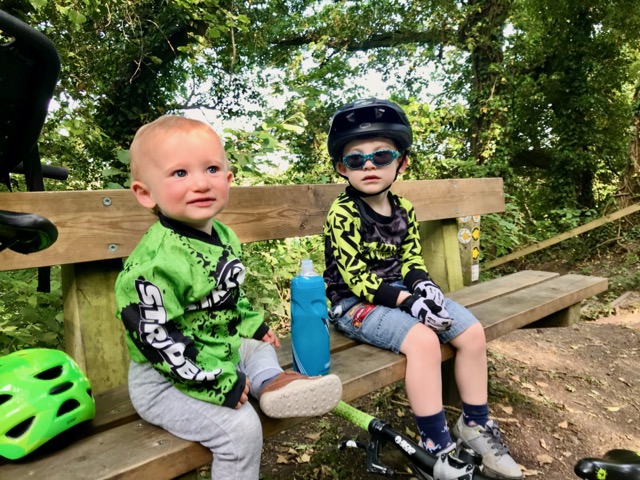 I have been meaning to write this post for the last two months, but could never find the right time – or given how busy things have been, the time full stop! However last weekend we had a great afternoon out in the van – riding bikes and enjoying a picnic. It reminded me of our trip to Hicks Lodge, just before lockdown started, but warmer. And given that the boys started back at nursery this week, I thought it was a good time to blog about what we have been up to during lockdown.
Fortunately none of us seem to have caught coronavirus, or "the virus" as Owen calls it, we have been keeping ourselves to ourselves and only venturing out for essential shopping and exercise. Given that the boys have not been at nursery, there have probably been less germs/illnesses that usual! However we did start lockdown with some sort of stomach bug, that we all seemed to get at different times. The worst part of it was that after Owen was sick on his bed, Jen's iPhone managed to find its way into the washing machine hidden in his bedding. iPhones do not like washing machines. Even worse, was that Jen had not been backing up her data – so please, let this be a warning – back up your data!!! Fortunately Jen was already in the market for a new phone, so the hardware has been replaced (and a back up mechanism put in place). Other lockdown casualties have been my Leatherman Style PS multitool (Amazon affiliate link), which I have lost at home somewhere and our landline phone, which I think Henry has broken. Given that I have barely driven anywhere, I decided to SORN my MR2, which has been stuck in the garage since mid March. We also had a nightmare three days where our home broadband stopped working – talk about bad timing! We were able to rely on 4G data from our phones, but for one particularly important meeting, I had to drive my van to work, park within wifi range and convert it into my mobile office. Fortunately the BT engineers were still working and one came out to fix it.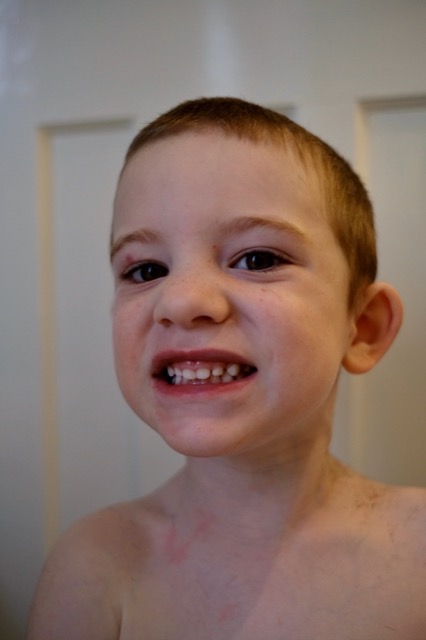 As lockdown began I was already overdue a haircut, and managed to buy a set of clippers before they became a rare commodity. I had been toying with getting a "number three all over" for a while, but my hand was forced by the lockdown. My mates were in the same position and we have called it a "covid cut". I am usually against home hair cuts, but was pretty pleased with how it turned out. I am probably about due a third "covid cut". Owen's hair was also getting long, Jen tried tidying it up, but it looked even worse, so he got a "covid cut" too. I thought it looked good, but Jen was not convinced, admittedly it does look better now that it has grown out a bit. Henry is still yet to have a hair cut and his hair is now getting quite long (and blonde), hopefully he can wait a little bit longer until hairdressers are open again!
Jen and I have both been able to work from home, which is easier said than done with two small children in the house! I am also busier than I have ever been at work, as the project I work on is about to hit some critical milestones. As I already spent most of my morning on Teams virtual meetings with colleagues in the Far East, working from home has not been much different – in fact being at my desk before 7:00, rather than at 9:00, after the nursery run, has worked well, giving me more contact time with my colleagues before they log off for the evening. It has cemented my view that I would much rather work from home full time – hopefully more telecommuting will be one of the good things to come out of all this! I do not think the same can be said for Jen, especially as it seems all the boys want to do is break into our bedroom, where she is working. They rarely seem to bother me in the dining room…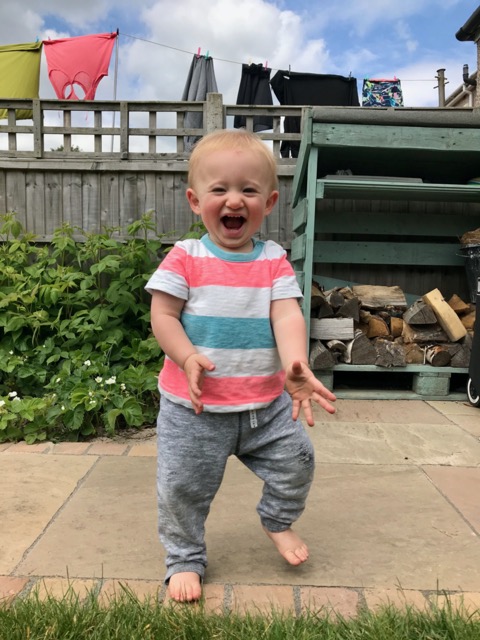 When we aren't meant to be working, it has been great spending all the extra time with the boys – within a few weeks of lockdown starting, Henry had learned to walk, and now there is no stopping him! He is in to everything, especially my desk drawers, Jen's dressing table drawers and the cupboard under the sink. He started walking a few months earlier than Owen, but Owen was speaking by this age. The nearest to a word Henry gets is a "gaga" sound, which he only makes when he sees my mum on our daily Facetime calls. He has also learned to blow kisses, which is incredibly cute! Despite not talking yet, Henry is good at getting his point across to us, and he is particularly vocal when it comes to food, especially when it comes to "asking" me to share my crisps or cereal! I think Owen has suffered more than Henry during lockdown, as he was used to going to preschool or to swimming/Ready Steady Riders, then all of a sudden everything stopped. We have been trying to get him out most days, and his bike riding has improved considerably. Early on during lockdown I tried him on a local bridleway, which Owen named "the scary hill", but after a few days he was zooming down it! Jen and Henry have also been getting out for bike rides with us – Henry loves being sat on the front of my bike, especially when we are going fast! Over the last few weeks, as restrictions have eased, we have loaded the bikes into the van to check out some local riding spots as a family, which has been great. Something else that I hope will continue post-pandemic!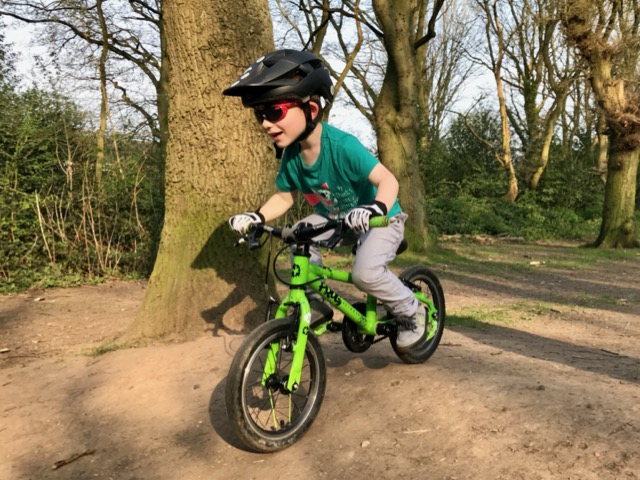 On the subject of bikes, I decided to bring forward the big annual strip down/service on my Orange Four, which usually happens in June. My logic was that as I would only be riding local trails I would not need to be riding it – and it had just clicked over 2,000 kilometres since I got it. I stripped the bike right down and sent the suspension back to Fox UK for a full service, their turnaround was longer than normal, but I have it back and almost have the bike rebuilt. I also accidentally picked up a few new projects – I have been considering a new hardtail, to replace my Vitus, for a while and had identified a few options – the Marin San Quentin (as ridden by my best friend Partho) and the 2019 Orange Clockwork Evo (I did not like the geometry on the 2020 version). With cycling being one of the few allowed activities, bikes have been flying off the shelves. I noticed that the Marin had sold out everywhere, and I could only find one 2019 Clockwork Evo frame available – it was in my size, it must have been a sign! So I bought it! It took a few weeks to arrive and being a frame means I need to build it up. The plan is to move the parts over from my Vitus, the exceptions being the headset and rear wheel which are different sizes. Not only did my local bike shop, Albany Cycles, have the correct headset in stock, they were able to fit it for me while I waited. I started looking at options for rear wheels, but struggled to find what I wanted and eventually decided that the best course of action was to learn a lockdown skill and build my own! I am able to true a wheel, and already had most of the equipment needed, I also had a spare wheel that I could strip down and practice on. So after a successful rebuild I ordered the parts needed – I managed to get what seemed to be the last Hope Pro4 hub anywhere online, and had to get the rim/spokes/nipples from Germany. So far I have laced and tensioned the wheel, I just need to finish truing it. I am waiting until the Four is back together and the wheel build is finished to start the strip down and build on to the new frame.
My other lockdown project has been building a Tamyia Lunchbox (the #LockdownLunchbox). I had already been rebuilding my Tamiya MX-5 (which I need to update on another post), but with nowhere to drive it, I wanted something that could be driven in the garden. The Lunchbox had not really been on my radar before my research started, but it quickly became obvious that a 1:12 scale stunt monster truck van would be perfect for wheelieing around the garden. I think Owen was even more excited than me when it arrived! The build went well, but I struggled with the painting – always my downfall with building models. The bike projects have taken over my time, so the build has stalled while I wait to order more paint (the MX-5 build is at the same stage). Owen and I have driven the naked chassis around the garden a few times, which was great fun. Once the build is finished I am sure it will be appearing on the blog! Owen and I also set up my old Scalextric set, which I tweeted about and got well over two thousand "likes", probably my most popular tweet ever.
Other lockdown projects which have stalled are painting the kitchen and dining room doors – we got off to a good start on the first weekend of lockdown, prepping and undercoating the kitchen door. During the initial three week lockdown, I had planned to wash a car every weekend, however I only just got round to washing Jen's Yaris this weekend – the van is next! I had also started learning the Laravel PHP framework, which I need to get back on with, as I have a few ideas for projects using it. However I did get to use some knowledge picked up whilst studying for my AWS Certified Cloud Practitioner qualification to get my blog server to reboot whenever I get an email alert from Jetpack saying my blog is offline.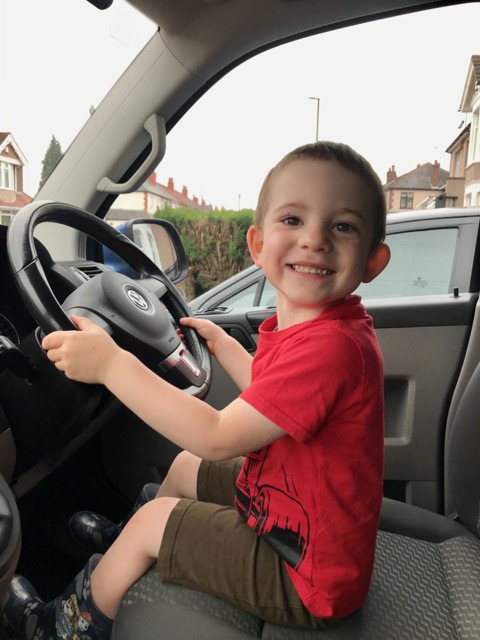 I am mostly happy enough at home, venturing out for the odd bike ride, so my life has not changed too much, the main things I have missed out on are a couple of trips to Wales. I have postponed my trip to Coed y Brenin with Partho, but we have cancelled our trip back to Bluestone, as the whole plan was to go for a term-time holiday before Owen starts school. As it stands we are still planning to go away with my family in August. Hopefully we will also be able to fit in some longer day trips in the van. The van has not been getting much use at all, initially it was only used for essential shopping trips, but now also for taking Owen for bike rides. However, I noticed a few problems – a rattle from the roof console and a nasty smell from the air conditioning, both of which I managed to fix, with a little bit of help from Owen. One unexpected benefit of the van is that it is so easy to work on the interior due to the space – I could even have Owen in there with me. There is no chance of that happening in the MR2!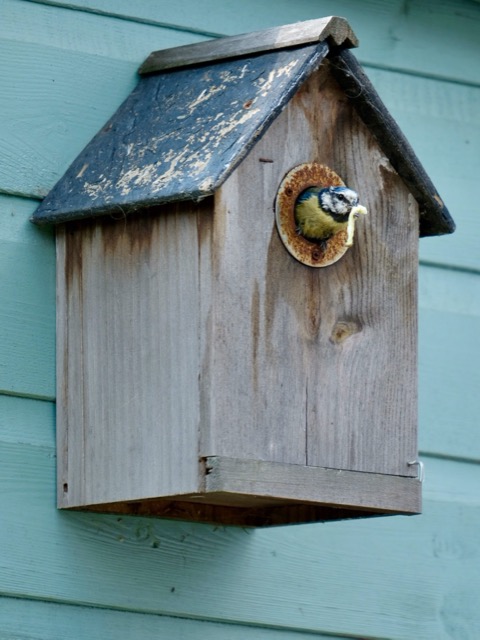 Our garden, like I am sure many around the world, has been getting a lot of attention. One of the last things we did before lockdown was go to the garden centre to buy vegetable seeds – now the plants are pretty big! I need to get the last few out of the greenhouse and find some space in the soil for them! Our strawberry crop has started to come through and it seems like it is a good year for strawberries. The main problems our plants face are the "two-legged pests" – Owen and Henry love digging, especially in the raised bed. This was fine in the winter, but now that there are plants in the beds, we have had to get strict with them. We have also had some visitors to our garden – a family of blue tits have moved into the nest box which has been on our shed for years. I had seen them checking it out earlier in the year, but it was only after we tidied up the shed, and attached a trellis under the nest box, that I found a tiny baby bird on the ground under the shed. It did not seem to be in a good way, but I scooped it up with one of Owen's spades and returned it to the nest. Shortly after the parents started regularly flying into the nest regularly with food, which I took to be a good sign!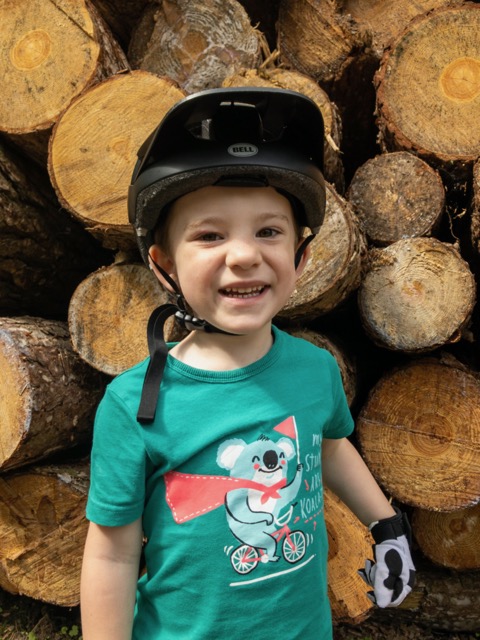 I will finish this post where I started – with our trip to Kingsbury Water Park! We had already gone for a few trips out in the van for family bike rides around Coventry, but with the lockdown restrictions relaxing and country parks opening we decided to venture out further afield to Kingsbury Water Park. We had to pre-book our parking ticket (we were able to do this 24 hours in advance), which meant it was not too busy, other than all the cars abandoned on the road outside where people had not booked. Part of the reason for choosing Kingsbury was that we could park up the van and have a picnic in the big field – something that we had been looking forward to doing since buying the van. We set up our picnic chairs beside the van and tucked in to our lunch, but Henry thought the next door picnic looked more appealing and wandered off, so he had to get strapped into his pushchair. After lunch I got the bikes ready, whilst Henry made friends with the dogs at the next door picnic – he has not met a dog since Christmas, but did not seem at all scared. We rode a big loop around the park, the trails were quite busy, but there was still plenty of room – it was great to see so many people outside enjoying the glorious weather we have been having! I also noticed the lack of litter which was a nice surprise given reports I had heard from other parks. Owen rode well and Henry enjoyed being along for the ride on the front of my bike. We even saw ducklings and goslings! After the ride it was time for a well-earned ice cream. The queue for the ice cream van was extra long due to the social distancing, but it was worth the wait. I got Henry his own ice cream, which he ended up smearing all over his face and pushchair, but it was worth it for how happy he looked when he realised he would have a whole one to himself!